HISTORY
To begin with the Westone history, we must first introduce the Matsumoku factory which founded the brand, and produced the guitars during the first 7 years. Matsumoku is a carpentry / cabinetmaking enterprise from the early 20th century. Having several luthiers among its employees, the factory focused on the manufacture of musical instruments in the mid-1950s (violin, acoustic guitar). As Japanese companies were already producing similar products in the "low price" category, Matsumoku chose to distinguish themselves by producing high quality acoustic archtop guitars. In the early 60s, after they acquired new plants and specialized equipment, Matsumoku began to increase its production. During the 70's, Matsumoku became the subcontractor of third party brands such as:



Vox,

Greco,

Yamaha,

Epiphone,

Orvile,

Univox,

Westbury,

Aria,

Electra,

Washburn (non-exhaustive list).

In 1979, Matsumoku decided to create its own brand with the goal to produce innovative and high quality guitars, in order to be able to compete with the American brands on their own market. The Westone guitars were quickly noticed for their quality of construction and completion, and a significant number of new ideas that Matsumoku had not yet been able to put into practice since they worked on schedule of conditions for other brands.

Among these innovations, we can find :


The Magnaflux UBC (Unbalanced Coils humbucker) : a humbucker using various structures of magnet on each coil as well as asymmetrical winding , allowing to obtain an authentic single coil sound when splited, while preserving its humbucker characteristics in normal serial connexion.



The heelless "bayonet" neck junction : a heelless built-in neck junction providing the same level of sustain as a long tenon set-neck without killing access to the last frets.

Nobuaki Hayashi
Nobuaki Hayashi, a luthier, member of the team of the Matsumoku R & D, has been at the origin of many other daring innovations and odacious designs. Today he continues its activity as a luthier at http://www.atlansia.jp/


MAIN MODELS
Westone guitars are characterized by a concern about craftmanship quality for about the smallest detail. As examples : massive brass hardware, small brass inserts and screw mechanism for removable parts (ie : battery plate), fine high-end polyurethane lacker, expertly soldered wiring, potentiometers assembled on metal plate, high-quality electronic components (hifi condensators), anodized aluminium back plates, entirely armor-plated cavities, irreproachable assemblies, perfectly polished frets. One can also note the use of wood difficult to find today like this slightly birds-eyes maple, also used by Ibanez on their 80's Artist series (in particular Georges Benson and high-end models).



2 production periods can be identified in the Westone Matsumoku history :


The first period from 1981 to 1982/1983 : the "early years", with simple script logo, is globally characterized by a traditional construction design (for exemple : neck-through, traditional pickups, mostly classical natural and sunburst finishes, ...),



The second Matsumoku period, from 1983/1984 to 1987 introduces the eagle logo (1983) and major technical innovations like UBC humbuckers, Bayonet neck join, as well as the Spectrum guitars serie (1984) which had large commercial success.

THUNDER
Thunder
models (guitar and bass) are inspired by Alembic neck-through construction style. Lower-end models feature bolt-on necks (Thunder I), or set-neck (Thunder II).
Let's first introduce 2 Thunder III "
guitar
" models . Below you can see 2 Thunder III : first is a black
model of 1982, then my second one : a green model from 1983, very different guitars.


The 1982 Thunder III - black provides very precise medium sonority, infinite sustain (neck-through, HH pickup layout, active electronics, 24 frets, ebony fingerboard, fixed bridge) - > good for progressive rock, jazz, fusion,… why not metal



The 1983 Thunder III - Onyx (metallic green ) provides stratoid sonority, crystal clear arpegios, with Les-Paul sustain (neck-through, atypical SHS pickup layout, passive electronic, 21 frets, floating massive brass whammy which doesn't affect sustain) -> good for jazz, fusion, funk, blues, but not for metal in my opinion.



Now a rare Thunder III fretless bass :

RAINBOW

The Rainbow hollow-body model is equivalent to an early "good time" Ibanez AS200 : ES335 style, long tenon junction, birds eyes maple body, ebony fingerboard, "pure" mother-of-pearl inlays. Please note the quality of the "slightly" birds-eyes maple, less slap-in-the-eye, and more elegant than all those very figurative maples we usually see nowadays :

PANTERA
The high-end
Pantera Deluxe
model provides heelless "bayonet" neck junction, ebony fingerboard, UBC pickups, and flamed maple body. Lower-end models feature a bolt-on neck and a simpler finish.
CONCORD
The sexy
Concord
model, alder body, maple neck, 3 single coils, Strat style whammy :


PRESTIGE

The top-of-the-range Prestige 250 model features mahogany body, flamed maple top, 3 pieces book-matched maple neck, heelless "bayonet" neck junction, ebony fingerboard and mother-of-pearl inlays :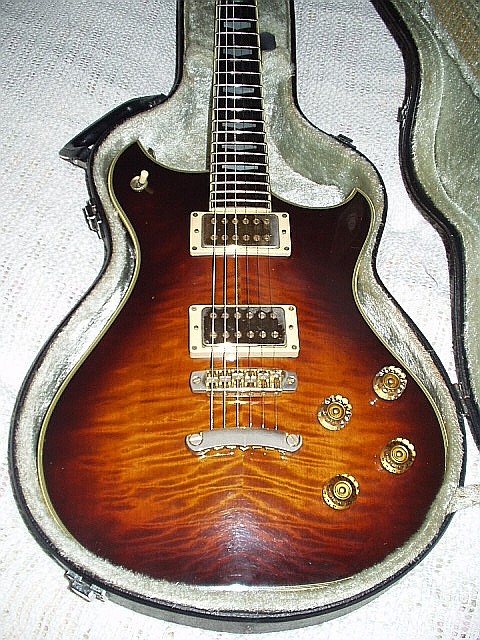 SPECTRUM
The Spectrum model is probably the most mass built Westone guitar, started in 1984. Several versions were produced, labeled I, II, III FX, DX, GT, ST, SX, S, with the same shape but different layouts and finishes, and also various body woods ranging from alder to maple. Typical Spectrum neck is built in maple, with rosewood fingerboard and often a satin black finish.

Below a superb Spectrum GT, probably built around 1985 :


End of story
In 1987, Matsumoku stopped its production and the manufacturing was moved to Korea. Quality dropped drastically and the Westone brand's image was largely altered.
However, some signature models were produced during the Korean period.
The guitarists having endorsed Westone include :


Trevor Rabin from Yes,

Leslie West from Mountain,

Kirk Pengilly of INXS,

Reb Beach from Winger,

Steve Lynch.

Below the Reb Beach model :
In 1997, the name was used by FCN Music for a small series of guitars manufactured by the Status factory in the United Kingdom. These guitars are rather rare, and of a very good level of craftsmanship.
Serial numbers and dating
Most of the Westone guitars can be dated by the serial number, generally located at the back of the head :


The serial number generally comprises 7 digits, the first one giving the year (for example a serial number starting with 1 indicates aguitar designed in 1981). It is possible that the second and third digits indicate the month.



5 digits appear on certain models, and it seems that the first two digits indicate the year.

Serial numbers with eight 8 digits appeared in approximately 1987. It seems that the first two digits indicate the year.

CONCLUSION
The period ranging from the late 70's to the late 80's corresponds to the emancipation of the Japanese guitar brands from the US brands. At that time, companies like Ibanez, Yamaha, Matsumoku, stopped copying and began to offer their own designs. Japanese realized that their craftsmanship quality was overall higher than that of Fender and Gibson (it is not a great time for the yankees), and seized the occasion (the "Lawsuit" adventure did not take much importance in this phenomenon, as it was only related to the "mustache" form of the top of Gibson-style heads, and did not result in a judgment of Ibanez, contrary to what is known as here or there: the lawsuit was canceled).

Westone high-end models would have prices between 2000 and 3000 euros if they were still being manufactured in Japan today (prices noted at ESP, D'Angelico, Gretsch, Ibanez-Japan, Bachus, for guitars providing similar level of craftsmanship).

Note:currently, the "Westone" brand name is used by a German company for a range of instruments produced in Asia (China probably).


Sources of information :


http://www.matsumoku.org/

http://www.geocities.com/Paris/Lights/6961/westone/

http://www.westone.info


Hyperion

Westone Nut




Number of posts

: 77


Age

: 52


Location

: France


Registration date :

2008-10-05



Similar topics
---
Permissions in this forum:
You
cannot
reply to topics in this forum