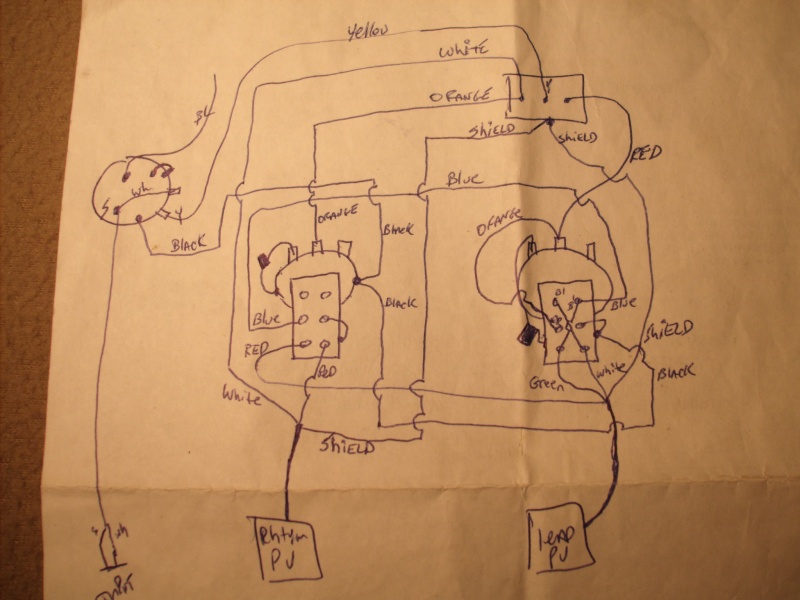 Here's a line diagram that I drew up a while back for the X390. The Rhtym pickup is the neck and lead is the bridge. If the image is too small to see details, just pm me your email and I'll send it to you.
Thanks,
Brother John
hi,

does someone know what exactly the green wire from the bridge pickup is? could you tell me please why a bridge-p/u has/needs one and a neck-p/u doesn't?

thanks in advance,

hans
Hi Hans,
There was one wire I left out from the diagram; a black wire from the volume pot case to the 3 way switch case to tie all the shields together.
They were using the green and white wires for phase reversal. If you put your pickup selector in the middle for both pickups, and pull the bridge pickup tone control, you'll notice a very different sound... and then if you back that tone control off a little it gives the sound like a wah pedal.
The red wire is used for coil tap for both pickups.
I took some ohm readings when I made the diagram which may make it clearer what is happening when you pull the bridge pickup, phase reversal tone control knob.
Normal position bridge pickup
shield to green= 0 ohms
shield to white= 8.2K ohms (8 thousand 200 ohms)
shield to red= 4.08K ohms
Pull bridge tone, phase reversal on
shield to green= 8.2K ohms
shield to white= 0 ohms
shield to red= 4.08K ohms
This color diagram will work with stock factory Westone pickups.
Hopefully your wiring looks like this, I've gotten several X390's where the wiring had been altered. If you have to do any soldering, it makes it easier if you take the knobs off the tone pots, then unscrew the nut so you can pull it out and better see what you're doing when soldering.
Hope this helps,
Brother John
---
Permissions in this forum:
You
cannot
reply to topics in this forum