My wife's cousin asked me about a project guitar I had shown him months back and I told him I needed to get a hold of a drill press for the FR posts. He said his job has one and also a CNC, if I ever wanted to use one to make a guitar. So I am taking him up on the offer. Ordered a 2 piece Alder blank and an unfinished premade neck. I decided to make it a 7 string Westone based off my first guitar, which I'm sure was a Dimension. I had got it since it looked like an ESP M-II and I was heavy into Metallica at the time. I know it had the him/single configuration with a selector switch and 2 mini toggles. The neck itself is pretty good, has good frets and the dots look good, no gap or raising. I snagged the alder blank from Exotic Woods and you get a choice of a free fingerboard and I went with purple heart. I'll start with finishing the neck first then move on to the body. Since I have that Spectrum I/IA, I got the body and headstock I can make templates from, so that's a plus. I am curious if the font(s) for the Westone logo is out there or if I need to snap a pic of mine and run it through Photoshop. Progress pics will pop up as I go along.
IIRC no one here has ever built a 7-stringer Westie (One member did make a 12 string).
This will be an interesting project to follow, good on ya for attempting it!
_________________
"A little song. A little dance. A little seltzer down your pants." -Chuckles the Clown

GUITARS
: https://legend.barryeames.com/guitars.html
MUSIC/PIX/VIDEOS
: https://getback.barryeames.com (including Spectrum ST)
The Guitar likes this post
The Guitar, looks great!
I have done several restorations and have several logos made. I did what you said and took a photo of my headstock, converted it to a single color image. I then use a Cricut machine to make the decal and use the decal as a stencil to paint the logo.

I have also recently started building guitars from scratch and would love a copy of any templates you come up with.

I can send you the logo files I have and also give you a hand if you send me a good photo of your current headstock logo.

knicelyr

Senior Member




Number of posts

: 274


Age

: 56


Location

: Michigan


Registration date :

2019-04-01



The Guitar likes this post
Sounds good! I know my headstock that I drew on the blank will be slightly off to a stock. I mainly went off measure different points and connecting those dots. It's a little longer and a bit wider.
Got a jump on the body. Sergio of Guitar Resourses made a model of my Spectrum. Seen he posted his model of the Dimension IV on the fb group, so I hit him up. Very easy to work with and keeps you updated on his progress. It looks fantastic and am looking forward to getting it to the CNC. I'll take the neck so I have access to better tools and get that headstock cut.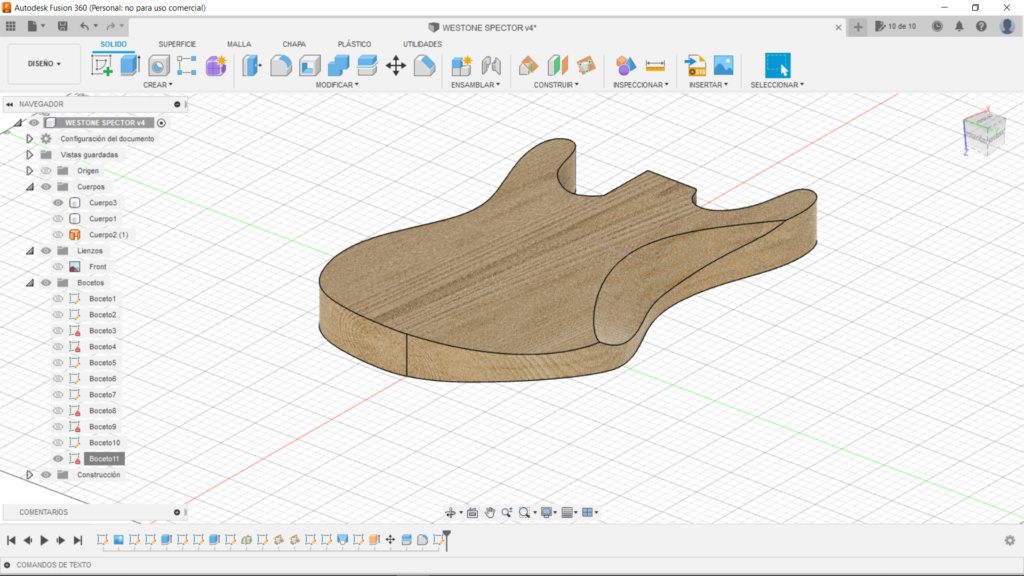 I like this movie.
Coming along very nicely!
_________________
"A little song. A little dance. A little seltzer down your pants." -Chuckles the Clown

GUITARS
: https://legend.barryeames.com/guitars.html
MUSIC/PIX/VIDEOS
: https://getback.barryeames.com (including Spectrum ST)
The Guitar likes this post
Similar topics
---
Permissions in this forum:
You
cannot
reply to topics in this forum