As a beginner my first bass was a ubiquitous Squier Precision. A sunburst and maple JV57 that I bought in my home town in 1983. I never really got on with it but I managed to persevere and make some progress. The 57 neck was too chunky for me and I always felt it was neck heavy. In fact I think most Precisions are neck heavy but it could be me. So by 1986 I was in the market for something better...
I don't know if you remember but being a beginner in a music shop back in the 80s could be a daunting experience - especially if you were an adult - and with my Precision experiences I could be made to feel like an idiot quite easily. "What! You don't like Fender Precisions! What about a Fender Jazz then?" So I decided to go to a high end London bass shop rather than suffer further embarrassment in my local guitar heroes outlets.
I was working in Saudi Arabia at the time and along with a group of friends we'd flown over to watch England play Scotland at Wembley and I'd decided on a side-trip to get a new bass. So early one Wednesday morning in April 1986 I found myself in The Bass Centre in London.
The first thing I realised was that this shop was going to treat me as an equal and they fully understood that I was still a novice player. Improving, but a novice. I told them my price range and they advised that a Japanese bass would probably be my best option and they showed me a number of basses. Yamahas, Arias and then a bright red Westone
Thunder
IIIA. I was immediately taken by it and when I tried it out I realised that the smallish body was right for me, but the neck... the five-piece thru-neck... was absolutely fantastic. Even the salesman enthused about it being a really affordable, well made active thru-neck bass. It just 'fitted' me. So for the princely sum of £368.50 I bought it. The owner of the Bass Centre actually intervened in the sale when he overheard that I would soon be carrying it back to Saudi so he threw-in a padded Warwick gig bag. (That lasted some years as well). And on to the Underground I went, bass in bag, to catch up with my mates in the hotel bar and prepare for the game.
That Westone
Thunder
IIIA bass has been my main instrument ever since. I have six other basses but my Westone is the one that I use on stage. Unusually the bass is translucent red with black hardware and mine is a Version 2 with a graphite nut and black plastic cavity covers. The trans-red over the grain of the ash body looks really good and if I'm honest its probably that finish that first attracted me to it. I think it still looks good today.
I played the Westone in its original spec for many years, occasionally taking it back to The Bass Centre for setups and fret cleaning but at some time in 1995 the bass lost its 'power'. Something wasn't right. Nobody else could hear what I was hearing but it just didn't sound as 'gutsy'. So I decided I needed new pickups and once again I was back at The Bass Centre seeking their expertise. Their recommendation was to fit EMGs. A P type in the neck and a dual-coil in the bridge. They wired them into the original Westone circuitry so I still had all the original active and passive tone controls, the pickup selector and the dual-tone switch. The pups were fitted inside the original Westone pickup covers so outwardly the bass still looked original.
I played the bass in this configuration for a few more years but I still wanted to take it further so in 1998 I was back at The Bass Centre. I'd decided to replace the original black 'Magnacast' bridge and the black tuners - both of which had gone 'crusty' with sweat and humidity - with a Badass II and a set of black Gotohs. I also replaced the Westone tone circuit with an EMG BTC. This mod made a big difference. I now had a completely EMG equipped
Thunder
III and the only original hardware were the V and T knobs. Everything else had been replaced. Tone-wise its a tasty, if expensive, combination. Great pickups on a great piece of wood. And it has lasted well. Still sounds great. Tight, punchy and really easy to control on stage with just the BTC split bass and treble control knob.
I've had compliments from a number of pro sound engineers on the tone of my bass. I'm not sure they were referring to my playing, just my tone! And the neck still feels great. Every other bass I've had my hands on has failed to match the playability of the Westone and countless other musicians have commented on its sound quality.
With about thirty years of hindsight I now believe it was my Trace Elliot amp that was responsible for the lack of power that led me to replacing the pups and the tone controls. Since then I've had the amp investigated and fixed but that's another story on another forum. The bottom line though is my thirty-five year old Westone
Thunder
IIIA bass is a really good instrument. My other basses may come and go but the Westone is a keeper.
Just for the record, yes, I did keep all the original pups, wiring, active circuitry and all the external hardware so I could put it back into its original spec if I wanted to, but I doubt that I will.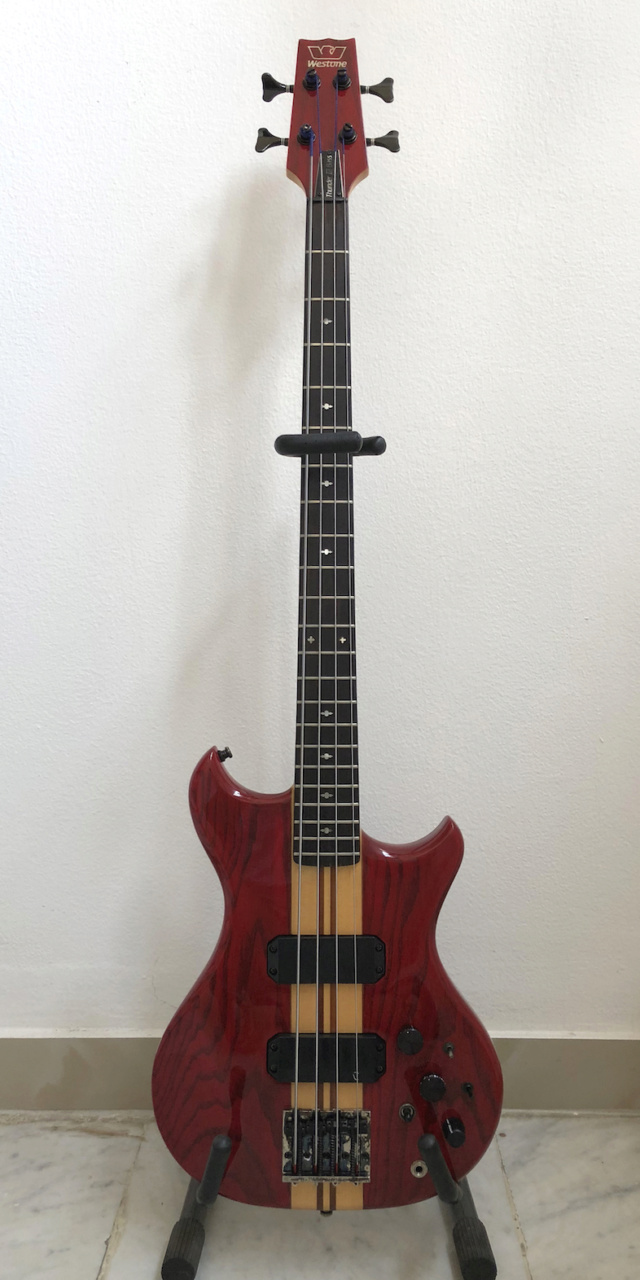 bbrich

Newbie




Number of posts

: 1


Registration date :

2012-06-22



bbrich and EWH like this post
That's quite the story! Thanks for sharing it and the pix, the 'ole girl still looks great!
I'm no fan of EMG actives on any instrument, but to each his own. It's hard to beat the Matsumoku Westones, they were extraordinary instruments.
_________________
"A little song. A little dance. A little seltzer down your pants." -Chuckles the Clown

GUITARS
: https://legend.barryeames.com/guitars.html
MUSIC/PIX/VIDEOS
: https://getback.barryeames.com (including Spectrum ST)
---
Permissions in this forum:
You
cannot
reply to topics in this forum