Perhaps you've noticed a second option appearing on the login page called
Topic'it
.
Topic'it
, is an optional mobile application from Forumotion (the host company of our Forum) that allows you to follow, register, log in, consult and participate live in the forum in a simple and intuitive way when you are traveling or away from your PC.
Please be aware that
this still in Beta test mode and regular upgrades and corrections are planned. It looks promising for mobile users so try it and see if it's helpful.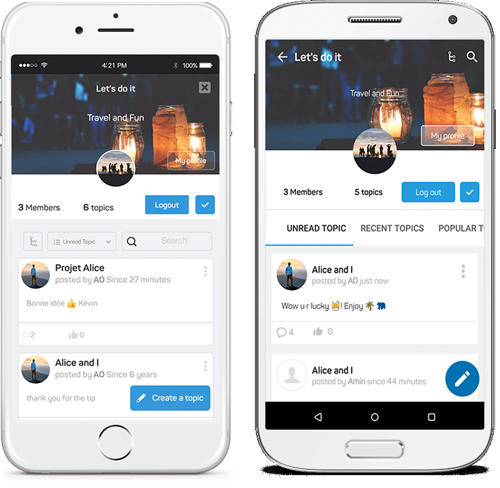 Topic'it is available free from the online stores:        


For more information go to the Topic'it website: https://topicit.net/en
_________________
"A little song. A little dance. A little seltzer down your pants." -Chuckles the Clown

GUITARS
: https://legend.barryeames.com/guitars.html
MUSIC/PIX/VIDEOS
: https://getback.barryeames.com (including Spectrum ST)
If you do not use the
Topic'it
app, there is no impact to you or Forum access. There is No Change which affects you or the Forum.
If you are a
Topic'it
user please read on.
I received the following notice from our host company, Forumotion, concerning the
Topic'it
application:
Topic'it : the end of the adventure

In 2017, we were pleased to announce the launch of Topic'it, an application that aimed to revolutionize access and interactions on forums from mobiles. Nevertheless, success was not achieved.

Despite our efforts to meet your expectations, we were not able to develop this app as we would have liked.
As we cannot offer you a quality service, we have decided to stop the Topic'it mobile app.

From this week, we will start gradually disabling Topic'it features.
If you use the application, you may now encounter some errors or operating problems.

The complete shutdown will be announced to you on D-Day by a message when the app is launched on Android and iOS.

However, please note that Topic'it Connect will always be available on Forumotion forums.
You will also always have access to your Topic'it account management from Topic'it website.

For Forumotion users, forums now have their own mobile application.
Indeed, the new Forumotion PWA offers you all the advantages of a native mobile application in addition to being much faster to load and 100% dedicated to each community.

On behalf of the whole team, we thank you for accompanying us during Topic'it adventure and we look forward to seeing you for the next step on the Progressive Web App for your forum.

Because this is the end of Topic'it App adventure but not the end of the mobile developments of your forums....

_________________
"A little song. A little dance. A little seltzer down your pants." -Chuckles the Clown

GUITARS
: https://legend.barryeames.com/guitars.html
MUSIC/PIX/VIDEOS
: https://getback.barryeames.com (including Spectrum ST)
Similar topics
---
Permissions in this forum:
You
cannot
reply to topics in this forum