Anyone who owns a
Prestige
250, a later version Rainbow, or Thunder III either knows the miserable fate of the Swiftlok stop tail. . .or soon will
Brief Background
One of the rare design flaws by our beloved Uncle Mats is this otherwise beautiful piece of essential hardware fashioned from substandard metal which eventually corrodes, bends and ultimately breaks. The problem is that there is no off-the-shelf replacement part for it because the hole centres are non-standard. A Gibson stop tail is too wide.
This has lead to many ideas and suggestions, pretty much all of which either require a huge investment in labour to accommodate the replacement or just won't work at all because of a mis-match in the string spacing. The search for a workable solution goes on.
The Bigsby Option
One suggestion which has been made several times is to install a Bigsby, or at least a Bigsby style vibrato unit. I personally don't know of anyone who's done it but theoretically it's workable. There are many styles and sizes available out there so the first thing to do is to pick one suitable for the guitar you have.
One of the potential problems of a Bigsby installation is that it's not likely to have enough downward pressure on the bridge leading to string instability. Plus you are stuck with two holes where the Swiftlok was.
The Towner Vibrato Retrofit Kit
This idea offers a nice solution to both issues, consisting of a simple bar which clamps onto the existing posts. The strings pass under it and like a head stock string tree, hold them down enough to stabilize them and put more pressure on the bridge where it's needed.
It's not a direct replacement either though, because the Westone centres are still smaller. That still means a custom part needs to be made, but it would be much easier and cheaper than machining a brass billet at least.
See what you think:
LINK
A trapeze tail piece might also work but would suffer from the same kind of problem. A Towner Kit could help here too. (Of course a trapeze may only suit a Rainbow)
_________________
"A little song. A little dance. A little seltzer down your pants." -Chuckles the Clown

GUITARS
: https://legend.barryeames.com/guitars.html
MUSIC/PIX/VIDEOS
: https://getback.barryeames.com (including Spectrum ST)
I asked forum member, Robert Crisp, if his Rainbow II with Bigsby has enough downward pressure. The seller he bought it from installed a Bigsby.
Robert has answered here on this FB link if someone could kindly copy and paste his reply into this thread as my cell phone won't allow me to:
edit from Barry (URL removed to prevent SPAM):
Thanks Westone. Here's Robert's reply:
Robert Crisp wrote:I have no idea how to answer this question other than with some observations: I did not install this Bigsby - I bought the guitar this way. I would not have chosen this, but here it is. As the bridge does not have rollers on it, the whole bridge pivots a bit when you work the bar. It doesn't look great - the whole thing wobbles/pivots a bit - basically working against a bit of slop or flex in the posts. I rarely touch the bar, but when I do, I only do minor vibrato, and it works well and holds tune well too. The tuners are Sperzel locking type. That's all I have for you.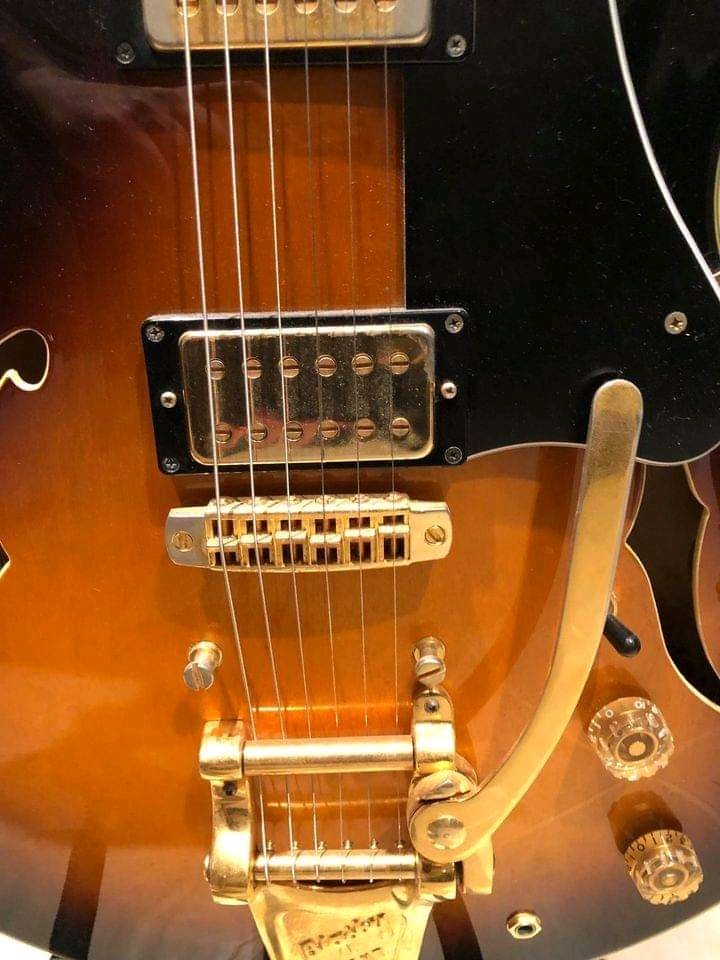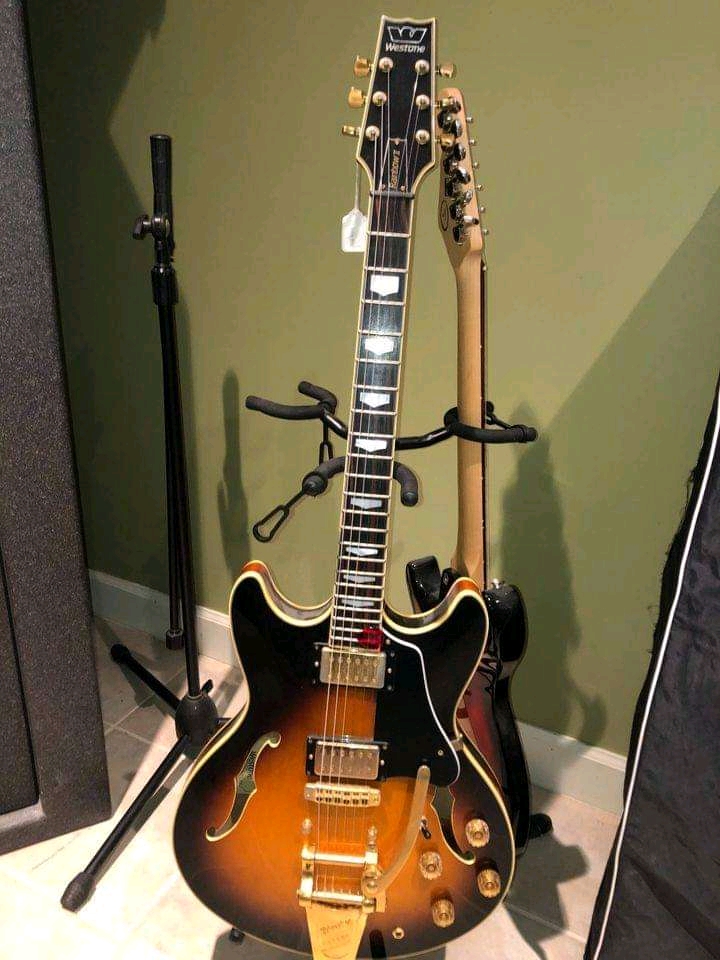 I don't think I'd have installed that style of Bigsby. I would try to avoid screwing into the top.
Regardless, the reply does point out a common concern with solid saddles, the strings catch and the bridge gets dragged back and forth.
Gretsch manages to get away with it, as does Gibson, but their bridges are more like an ABR-1 style which is lighter and appears to tolerate the movement better. I believe that they might also be lower in height which would reduce the strain.
A roller style saddle would be preferable here if it's possible to retrofit them. And as mentioned in my original post, you're still left with two posts sticking out of nowhere, doing nothing.
_________________
"A little song. A little dance. A little seltzer down your pants." -Chuckles the Clown

GUITARS
: https://legend.barryeames.com/guitars.html
MUSIC/PIX/VIDEOS
: https://getback.barryeames.com (including Spectrum ST)
---
Permissions in this forum:
You
cannot
reply to topics in this forum