Feel free to move this wherever it needs to go but, I have to change my pw in order to login. It seems to have started a week or so ago. I put in my correct login/pw and it looks like it logs me in but I can't post nor can I see things members see. If I intentionally put in incorrect information, it lets me know so I know I'm using correct login/pw.

jorg

Westone Nut




Number of posts

: 74


Age

: 57


Location

: Grand Absurdity, TX


Registration date :

2010-08-31



To the Forum Members

Jorg and I have been in offline discussion about this frustrating problem and I am attempting to find a cause and solution.
Meanwhile I'd appreciate hearing form anyone experiencing the same issue.
_________________
"A little song. A little dance. A little seltzer down your pants." -Chuckles the Clown

GUITARS
: https://legend.barryeames.com/guitars.html
MUSIC/PIX/VIDEOS
: https://getback.barryeames.com (including Spectrum ST)
I have heard from at least one other member who is seeing odd behaviour on the Forum site.
Folks, there are limits to what I can do here because we do not own the Forum. This a free hosted site and access to the operating system is restricted by the owners, Forumotion.com.
My best guess as to what may be happening is that Forumotion may be either updating their systems or possibly experiencing volume overloads on their servers.
The issues I'm aware of seem to involve mainly intermittent display or non-display of certain functions. Those are controlled by Javascript code which is downloaded when you login. In some cases it looks like the appropriate code may be either missing or corrupt.
It's possible their code is corrupt, OR the cached code in your browser may be. Try clearing your browser cache and also check that you have Javascript enabled. (Google is your friend if you don't know how
)
Unfortunately the only other thing we can do right now is wait for them to correct the issues.
The Login Issue
I did find a previous post on the Forumotion site relating to password reset and inability to login afterwards which may help.
If you have reset your PW and the site lets you in then does not save it afterwards, try this:


De-select the checkbox below the password box before you enter the new PW

login with new PW

logout

Check the box and re-enter your new PW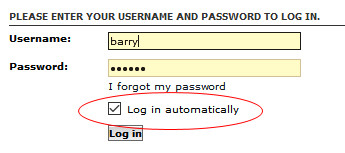 This should properly reset the new PW in the system. Hope this helps.
_________________
"A little song. A little dance. A little seltzer down your pants." -Chuckles the Clown

GUITARS
: https://legend.barryeames.com/guitars.html
MUSIC/PIX/VIDEOS
: https://getback.barryeames.com (including Spectrum ST)
DreamRaven likes this post
Similar topics
---
Permissions in this forum:
You
cannot
reply to topics in this forum