Greetings fellow Westone owners. Figured I'd join this forum just because I've had a couple Westone Crosier Pros (WE7501FLP) for many years and always thought they were unique. My
Corsair
's are much more of a "traffic cone orange" than fluorescent pink, but hey whatever. I've never seen any like them anywhere except maybe the one one shown in the Horizon's catalog bidding under the other
Corsair
Pro. Mine have both had the stock pickups replaced, unfortunately I don't think I have the originals, at least not all of them. My personal opinion of these guitars is that they are fantastic. They play great, sound sound great. The Kahler Spyder is a little weird compared to a Floyd Rose, but it gets the job done. I gigged with these guitars for years in my early days. The one that looks the most used I still pick up to noodle on all the time even though the frets are dimpled like crazy. Hope you guys enjoy the pics!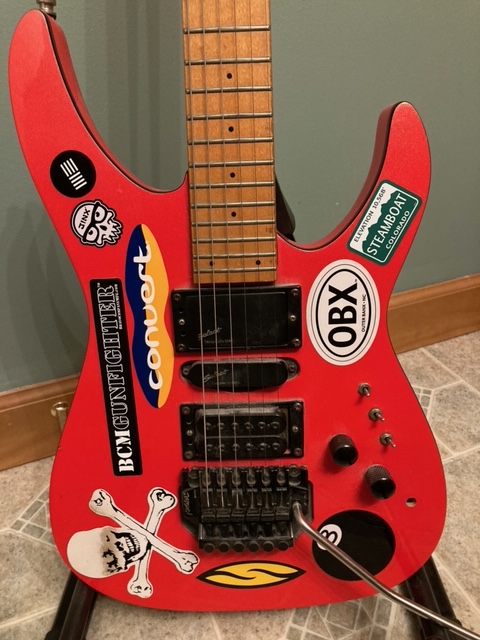 [url=https://servimg.com/view/20286330/4]
[/url]

Corsairman

Newbie




Number of posts

: 2


Registration date :

2020-12-01



Hi
Cosairman
and welcome.
Happy to see you're secure enough in your masculinity to play pink guitars!
I was hoping one our members with a
Corsair
might chime in first but not so far. . .
I don't own one and the style is not too my particular taste so I can't comment too much except to say that I understand that these are nicely made and good players.
Them what has 'em likes 'em!
Looks like you've had a lot of fun with them too! Thanks for posting.
_________________
"A little song. A little dance. A little seltzer down your pants." -Chuckles the Clown

GUITARS
: https://legend.barryeames.com/guitars.html
MUSIC/PIX/VIDEOS
: https://getback.barryeames.com (including Spectrum ST)
Corsairman likes this post
I'd rock a pink guitar - figuratively and literally.

Full disclosure: I have a magenta (dark pink) Peavey Millennium bass, two magenta (pink) Mongoose freestyle BMX bikes, had a red & pink Kawasaki once, and have my eye on a pink Pantera and a pink Daisy Rock bass in a pink case, so my opinion isn't objective.


Neil

NeilH

Westone Nut




Number of posts

: 74


Registration date :

2019-05-18



Corsairman likes this post
I still have my mongoose I had as a kid in the '80s! Back then it was racing that was the thing, Freestyle didn't take off till a little later. I wish I still had my Pantera in pearl pink, that has to have been one of my favorite guitars of all time, along with being my first real guitar. So I would also rock a pink guitar no problem!

Drizzit

Registered Member




Number of posts

: 16


Registration date :

2020-12-23



Corsairman likes this post
Nuttin wrong with PINK!  I bought my ARIA Pro II MA-30 primarily 'cause it looked so cool in it's hot pink/burst livery!  Your CORSAIR is NIIICE!

ExFender

Financial supporter




Number of posts

: 212


Age

: 77


Location

: Germany


Registration date :

2019-10-30



Glad you all have enjoyed. ExFender...Wow ARIA PRO II, I remember drooling over one of those way back in the day before I even started playing.

Corsairman

Newbie




Number of posts

: 2


Registration date :

2020-12-01



---
Permissions in this forum:
You
cannot
reply to topics in this forum