I have a Spectrum SX that I bought second-hand in the late 80s and have kept ever since. One of the six L-shaped saddles was replaced by a previous owner, and it has a few problems. It's black instead of chrome, it uses a different size hex wrench, and also I somehow lost its adjustment screw at some point in the past three decades, so it's now just held in place by friction (from the string, and from the saddle next to it) which works, but obviously has problems if I use the tremolo heavily.
So I guess I'd like to solve it in one of three ways:
Option 1: Acquire an original Bendmaster FT saddle
Option 2: Acquire a drop-in
replacement
saddle that has a matching adjustment screw (and ideally the same hex wrench size, and is chrome in color)
Option 3: Acquire a
replacement
adjustment screw
I guess maybe I could find a
replacement
screw at a well-stocked hardware store, but that's also not a very satisfying solution, because I've always been a little bothered by the color mismatch. Does anyone know how I can solve this with option 1 or 2? Maybe someone has a spare saddle lying around?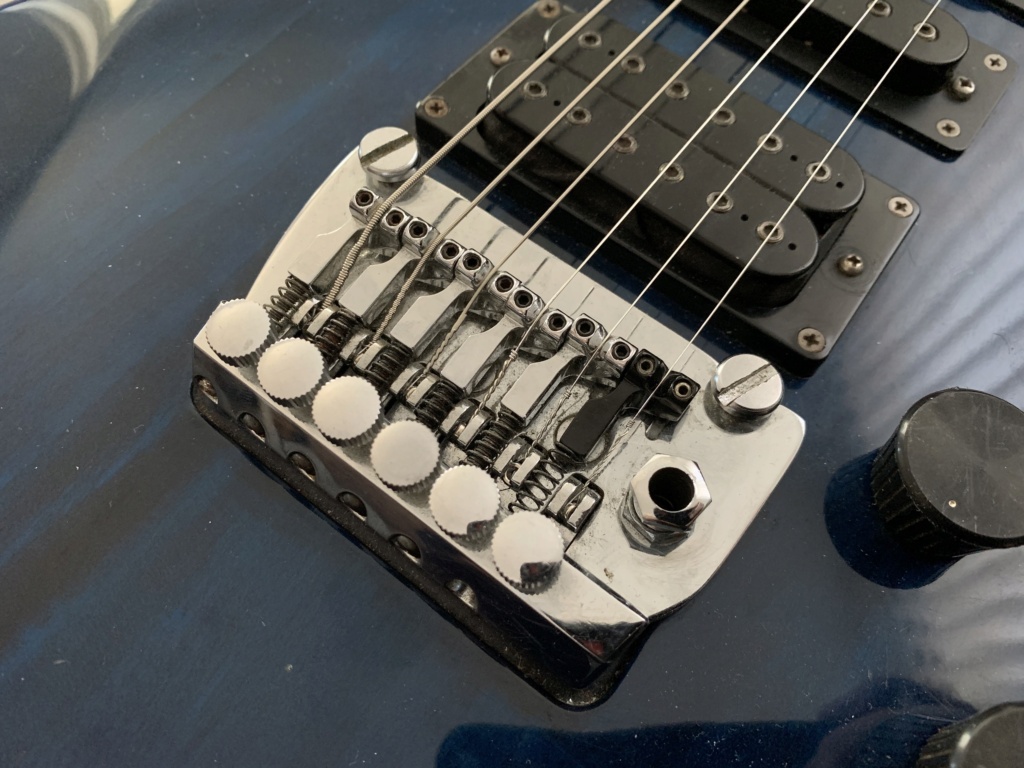 jacknutting

Registered Member




Number of posts

: 5


Registration date :

2020-08-04



The intonation adjustment screws are just a metric fine, so whip one of the others out and whistle along to your local fastener store and get the one closest to it that you can. You may have to re-profile the head with a file to get a good fit in the housing...
In the meantime, to solve the colour issue, paint the thing, masking the threaded holes, obviously, with one of those all-singing, all-dancing modern aerosol metal colour rattle cans! I used a gold one for some job or another and was gob-smacked by the finish; so much more than I expected!
I do have saddles that fit that bridge, but they're a) black, and b) currently 1500 miles away!

corsair

Senior Member




Number of posts

: 6307


Age

: 64


Location

: Mount Hunter, NSW, Australia


Registration date :

2008-04-08



Oh spray paint is a brilliant idea! Why didn't I think of that?
‍

jacknutting

Registered Member




Number of posts

: 5


Registration date :

2020-08-04



BTW, I have no real knowledge about screw/bolt sizes. My five remaining adjustment screws (which do fit just fine in the oddball too) are 3mm wide, and just shy of 30mm long (not counting the head). I'm having a hard time figuring out the pitch; I don't have any tool to help measure this, and my old eyes get lost trying to count the threads. If they are "metric fine", does that mean that they have a pitch of 0.35? Seems like this is some kind of standard. I was going to post a link to a chart showing this, but I'm too new of a member and not allowed to post a link here.

jacknutting

Registered Member




Number of posts

: 5


Registration date :

2020-08-04



To answer my own followup question: My assumption abbot the type of screw was correct! I bought six  screws that are 3mm wide and 30mm long, with the standard metric fine thread pitch (0.35), which at this particular seller are called "DIN 912 A4 M3x30." Just putting this here to benefit people in the future who may be searching for an answer to the same question (who knows, it might be me searching for the same information in another 30 years!)
I decided I might as well replace all six, since the old ones were starting to show some rust, and some of the screw heads were quite worn down. The new screws have hex heads, which due to the angle are a bit fiddly to adjust with a little L-shaped hex wrench instead of the old straight-on screwdriver, but now that they're in place, my adjustments will be rare and minor, so it's OK. Thanks again Corsair for the tips!

jacknutting

Registered Member




Number of posts

: 5


Registration date :

2020-08-04



Similar topics
---
Permissions in this forum:
You
cannot
reply to topics in this forum