I have a Sunrise Sunburst
Prestige
250 and I have read that if it has Westone in script on the headstock, it is 1982/83. I also read somewhere that it should have a serial number, but can't remember where I saw it 
 and Google hasn't been any help retracing my steps.
Any ideas where the serial number is or how else I could find out the age? Apologies if it's a dumb question, but it's not only my guitar which is getting on a bit 

woodgnome

Registered Member




Number of posts

: 7


Registration date :

2018-12-10



Nice guitar..
Should be able to find it on the rear of the headstock at the top.
Some are hard to see due to the paint/lacquer but it should be there.
the serial number should be on the back of the headstock, right at the top edge
like this one;
the first digit indicates the year of production, the next two digits indicate the month of production, the final four digits are the production numbers
this one would be; 2=1982, 05=May, product 1743
my speculation is that production numbers include all westone models built each month
so, how about some pics of your guitar?

gittarasaurus

Financial supporter




Number of posts

: 1486


Location

: San Francisco, CA


Registration date :

2011-05-25



Wow, no wonder I couldn't find the serial number, talk about indistinct! Thanks for that, turns out it's September 1982, 2425. Pic below. The sharp-eyed may notice an extra mini toggle switch. It was put in to give more switching options for the pickups, but I wasn't convinced it did anything for the sound, so disconnected it. Was thinking maybe use it to create a single coil sound on one of the pickups, but never got around to it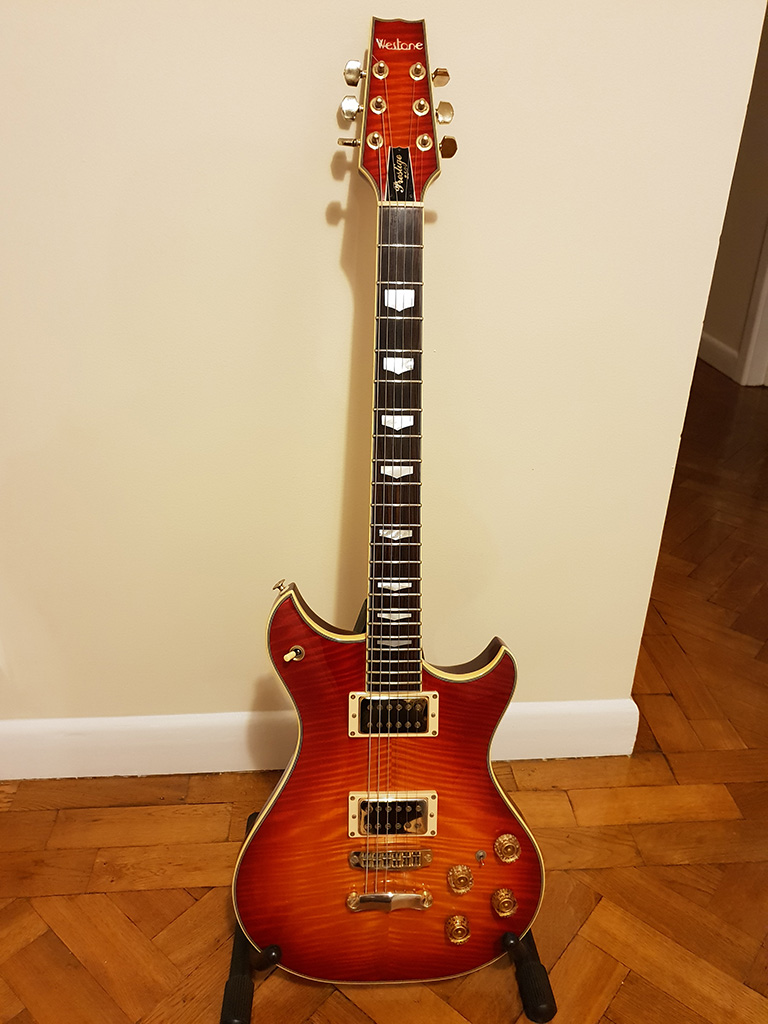 woodgnome

Registered Member




Number of posts

: 7


Registration date :

2018-12-10



Pity about the mini switch could have just put a pull/push switch at one of the volume controls would have done whatever you were trying to achieve without drilling a hole in a fine guitar.

Does it still have the stock wiring?
Not really my idea. But this was back in 1982 and I'll admit I was a bit naive and the guitar technician didn't say how he was going to achieve it. Something to do with the phasing of the pickups I think but it only interrupted the wiring on one pickup as far as I can see.

Is it the stock wiring? I have no clue, but as I said there only seems to be the wires from one pickup which were wired into the switch. Would I have gone through with it now knowing what I do now? Nope, just another dropped stitch in life's rich tapestry.....

woodgnome

Registered Member




Number of posts

: 7


Registration date :

2018-12-10



_________________
"A little song. A little dance. A little seltzer down your pants." -Chuckles the Clown

GUITARS
: https://legend.barryeames.com/guitars.html
MUSIC/PIX/VIDEOS
: https://getback.barryeames.com (including Spectrum ST)
Great machine there... top quality on those 250's.

The Chad

Financial supporter




Number of posts

: 2767


Location

: Harrisburg, Pennsylvania


Registration date :

2011-02-01



Similar topics
---
Permissions in this forum:
You
cannot
reply to topics in this forum